Dr. M E Premanand bags yet another award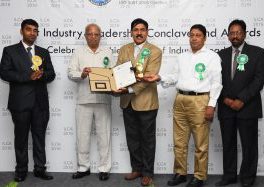 1 November 2019
Dr. Premanand M E has recently been conferred Excellence in Higher Education instituted by Venus Industrial Foundation 2019 at Chennai.  He is the winner of four other awards, the 2017 CSI Diocese of Malabar Award for Best Teacher in Higher Education, the prestigious 2016 M M Ghani Vice Chancellor's Award, University of Calicut for Humanities and 2015 ICT Academy of Tamil Nadu Best Techno Faculty Awardee.
He is an alumnus of Malabar Christian College (1984 BSc Physics Batch)
Several Educational tools are promoted in his classrooms for students to learn, improve and strengthen the English language and Communication skills. This is an area that is still not explored by many teachers, especially in Degree classes. Students in his class are all familiar with Google Classroom, Edmodo, Weebly, Kahoot, Smore, Flipgrid, Forms, Piktochart and use them in various ways.
www.englishskillsone.com Progressive Web App, launched last year has achieved close to 7 lakh views and is actively used by students of Calicut University in the form of Podcasts, Infographics, Quiz, Phonetics, PowerPoint presentations, Question Bank.